Jeli is the gateway to the state of Kelantan from the West Coast of the Peninsular. It's a great stop over for those travelling across the country on the East-West Highway. Jeli is also the main connection to southern Kelantan via the Jeli-Dabong road. Jeli is bordered by Thailand in the north, Tanah Merah to the east, Kuala Krai and Gua Musang to the south and the state of Perak to the west. It is definitely a strategic location with huge potential for structured development in the future.
Jeli town is the main urban hub here, located 98km away from the state capital Kota Bharu via the East West Highway.
82% of the district is hilly or mountainous, heavily forested and blessed with many river tributaries. The altitude ranges from 90 to 500 meters above sea level. The main rivers which run through the district are the Pergau, Renyut, Suda and Balah rivers.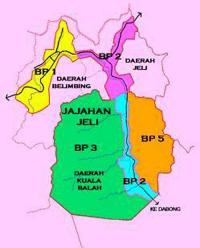 Click on  picture to enlarge.